«Ricerche Storiche»  a Palazzo Strozzi Sacrati
Il 23 giugno alle 17 presso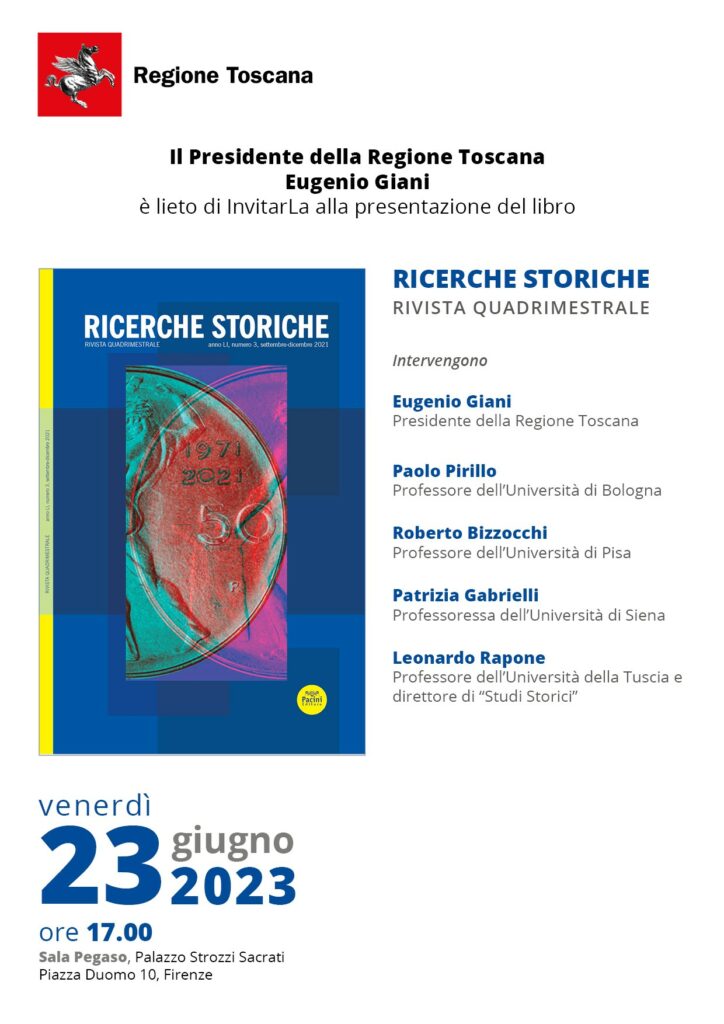 la Sala del Pegaso in Palazzo Strozzi Sacrati in Piazza Duomo n°10 a Firenze sarà presentato il fascicolo della rivista «Ricerche Storiche» uscito in occasione del 50° anno di attività.
Grazie all'accordo con Pacini Editore è possibile scaricare gratuitamente questo fascicolo della rivista.
La presentazione sarà affidata a Paolo Pirillo (Università di Bologna), Roberto Bizzocchi (Università di Pisa) Patrizia Gabrielli (Università di Siena) e Leonardo Rapone (Università della Tuscia e direttore di "Studi Storici") 
«Ricerche Storiche» nasce nel 1971, quando la storiografia italiana cercava di rinnovarsi, in parte sotto la forte spinta politica del '68, in parte seguendo l'altrettanto forte messaggio che veniva da alcune correnti storiografiche straniere, in particolare dalla scuola francese delle "Annales", in direzione di un allargamento del territorio della ricerca. Si affermavano una tendenza ad una storia dal basso, e nello stesso tempo ad una storia allargata ad altri ambiti disciplinari. Questo approccio trovava una conciliazione nella dimensione della storia locale, poi declinata in maniera originale in Italia come microstoria.
Una delle caratteristiche più rilevanti della rivista è stata fin dall'inizio la forte apertura internazionale, grazie all'apporto offerto continuativamente da numerosi docenti e ricercatori dell'European University Institute, molti dei quali hanno fatto e fanno parte degli organi direttivi.
«Ricerche Storiche» ha potuto così ospitare una serie molto ampia di saggi ed uscire con alcuni numeri monografici che facevano riferimento e diffondevano presso gli studiosi italiani filoni di ricerca, tendenze interpretative e sviluppi del dibattito storiografico a livello internazionale, soprattutto nell'ambito della storia medievale, moderna e contemporanea.
Oltre agli studiosi dell'EUI, «Ricerche Storiche» ha intrattenuto ed esteso nel corso del tempo rapporti con diversi gruppi di ricerca operanti a livello internazionale. Un alto grado di internazionalizzazione è poi sempre stato presente anche in uno dei filoni caratterizzanti della rivista, cioè quello dell'archeologia industriale, grazie ai rapporti organici con l'Associazione Italiana per il Patrimonio Archeologico Industriale – AIPAI e con The International Committee for the Conservation of the Industrial Heritage – TICCIH, l'organismo di settore pi importante a livello mondiale.
La rivista, inoltre, si è interessata a lungo del campo di studi che sta fra la divulgazione e la elaborazione culturale decentrata, affidata a centri di ricerca locali, musei, archivi e associazioni distribuite sul territorio; ha cercato in modo abbastanza pionieristico di promuovere in Italia un interesse per la "Public History"; per questa via si è interessata al tema del rapporto fra Storia e media. Questa riflessione si è poi ulteriormente consolidata con vari contributi sul tema del rapporto fra ricerca storica e "consumo" culturale da parte di pubblici variamente ampi e differenziati, in un contesto in cui le nuove tecnologie comunicative stanno cambiando profondamente il panorama dell'informazione scientifica.
Il fascicolo presentato non è un volume "celebrativo": vuole piuttosto offrire, attraverso un forum che ospita i contributi di tredici direttori delle maggiori riviste di storia italiane, una riflessione sul ruolo delle riviste nella ricerca oggi.
A seguire il sommario del fasicolo:
Francesco Mineccia, Luigi Tomassini, Introduzione. Cinquant'anni di Ricerche Storiche
Franco Franceschi, «Ricerche Storiche» e il medioevo
Marcello Verga, Cinquant'anni di studi di storia moderna nella rivista «Ricerche Storiche» e qualche considerazione generale sulle riviste di storia
Paolo Favilli, La contemporaneistica in una rivista nata "calabrone"
Serge Noiret, «Ricerche Storiche» e gli albori della Public History in Italia
Vittorio Tigrino, Mezzo secolo di «Quaderni Storici»: una storia redazionale a confronto
Francesco Catastini, Maria Pia Paoli, ARS, gli Amici di Ricerche Storiche
a cura di Francesco Catastini, Maria Pia Paoli, Carlo Spagnolo, Andrea Zagli, Forum. Le riviste di storia in Italia: profili, problemi, prospettive. A dialogo con: «Archivio Storico Italiano» (Giuliano Pinto); «Contemporanea» (Silvia Salvatici); «Diciottesimo Secolo» (Rolando Minuti); «Genesis» (Ida Fazio); «Italia contemporanea» (Nicola Labanca); «Memoria e Ricerca» (Fulvio Conti e Maurizio Ridolfi); «Meridiana. Rivista di Storia e Scienze Sociali» (Gabriella Corona e Rocco Sciarrone); «Nuova Rivista Storica» (Eugenio Di Rienzo); «Passato e Presente» (Roberto Bianchi, Francesca Tacchi e Valeria Galimi); «Rivista Storica Italiana» (Massimo Firpo); «Società e Storia» (Livio Antonielli); «Studi Storici» (Leonardo Rapone)